April 9, 2012
We've been homeschool geography slackers for quite some time.
Do you have any good geography suggestions?  I'm considering some kind of wall map and maybe a bigger globe that doesn't break the bank.  If you have ideas for games, puzzles, maps, globes, etc., I'd love to hear them.
Here's what we've been doing lately in my attempt to bring my kids up to speed.
We bought a Quick Pix Geography game an sale for $10 on Amazon: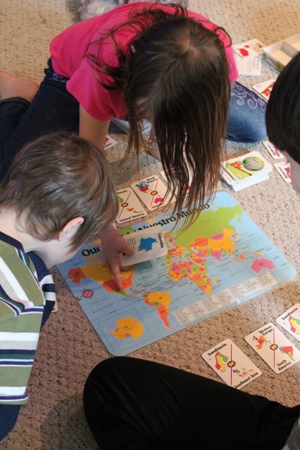 The kids pulled out our dollar store world map place mat to help.
How to play:
Each kid gets 5 region cards.
The dealer flips a country card over
The first person to match their 'region' card correctly to the country card wins the match
5 matches wins.
Have fun.
And then I went looking for a globe.  Sheesh!  Who knew how expensive globes were?
Not to mention my kids would probably break it.  So, instead of spending over $100 on a quality globe, we went with the $6 special: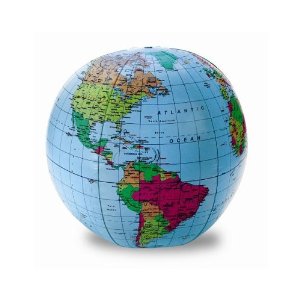 Yep – a plastic beach ball inflatable globe.  It's actually been working out well, except it's a bit small.
I haven't come up with any better ideas, so I'd love to hear yours.  Thanks!
Posted under Geography, Homeschool Reviews