June 8, 2010
Doesn't he look so proud of himself?
Well, it was mostly him.  I just kept offering him all kinds of reading and spelling options, and he did the rest.  He's on his 12th "I See Sam" reader already.  We've used a mish-mash of things, letting him set the pace and enjoy it.  He's switched through a bunch of different activites, since I didn't want to force him into anything.  It's worked really well doing that, since he's so enthusiastic.  And as soon as he starts getting tired with one learning method, I give him a bunch of other choices and he's gets all excited again.
If you're curious about the reading 'mish-mash' we used or need some ideas, here's the info:
First, he did the first individual letter lessons in The Ordinary Parent's Guide to Teaching Reading by Jessie Wise.  It is my favorite of all the phonics instruction books I've used and even better, is available for less than $20 on Amazon.  Short daily lessons keep it from being boring, and if you're looking to help older readers with spelling troubles, this book is very complete, working it's way through things like the sounds of 'ough' or the many ways to spell the 'oo' sound.   (Here's my review)
When we got to the simple word lessons – sat, rat, cat, etc., he had a very, very difficult time 'adding' the sounds together.  He would get the 's', 'a', and 't' sounds but not be able to combine them at all.  I tried voicing the sounds in a slow drawl and gradually saying them closer together, but no go.  He wouldn't get it until I practically said the word for him. 
So, I figured it was time for a different approach.  The other kids have been doing themed spelling lists on the amazing free www.SpellingCity.com (Here's my review).  Tim had been bugging me for his own spelling list, so I told him that instead of reading he could do spelling.  We made a few 3-letter word lists together and I let him go at it.  He loved playing the games with his words and before I knew it, by 4-year-old was acing his 5 word lists – even typing them in by himself.  He was so proud of himself.  I'm also a little astounded by how fast the kids master the keyboard and mouse!

During this time, he also spent a lot of time playing around with the great phonics and stories on Starfall.com and listened to Tumblebooks for free through our library's subscription.
The spelling was the key.  Playing with the letters and spelling his own words helped him make the connection needed to combine sounds into words.  After a few weeks, my husband mentioned that with his great spelling, he could probably read a book on his own.  He was excited to try.  We used my favorite early readers:  The "I See Sam" series (My review here).  He's been reading a book a day and loving it! 
The stories are silly, so the kids enjoy them.  What also makes them so successful is that the words are introduced one at a time, and unlike other early readers, there are no unknown words in the books.  Each book introduces a few new words, and then only uses words you've already learned.  This means that after the kids learn the new words for each book, they can read the books completely on their own.  It's such an accomplishment to read a book on your own at such a young age.  We use the Little Series 1 and 2, and then move on to reading other books.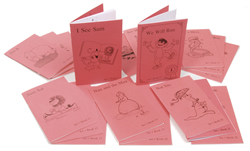 I hope this helps with reading ideas.  Do you have any books, websites, or reading curriculum that you really enjoy?  I'd love to hear from you!
Enjoy!
Posted under Reading Curriculum