August 3, 2010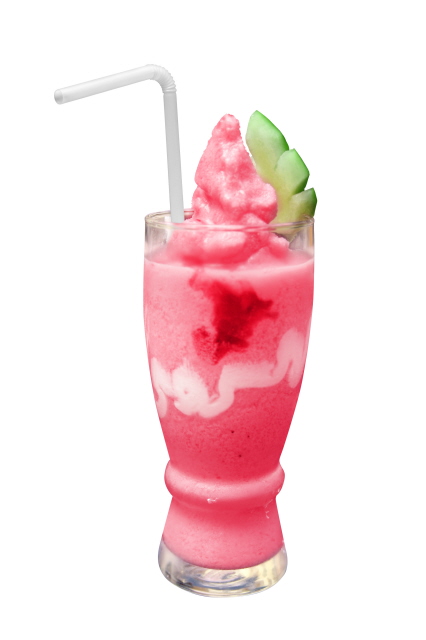 (Thank you to Kathryn Jones for her guest post and fun ideas for hot summer days!)
When I was little I spent hours outside in the summer. My favorite pastime was digging holes in the dirt with my mother's kitchen tablespoons. (Boy, did she love that!) Digging long driveways underground for matchbox cars was "the thing" then, and far surpassed playing anything inside the house. Being outside where other kids were doing similar things in their own backyards had its own charm.
I remember one particularly great day, a friend of mine was moving. Although the fact that she was moving away was not great, but what was splendid, was the Going Away Party my mom threw. There, right in the side yard along with my car tunnels, she'd placed a small table with a pretty cloth, and on it were the pinkest, coldest, yummiest looking drinks I'd ever seen.
My friend was smiling grandly. I was probably doing the same. But, what I remember most was how good the drink tasted, and how my friend and I giggled all the way down to the end of the tall glass. It was only later, when my friend was gone, and the tears had dried, that I asked my mom what we'd had to drink.
"Pink Lassies," she said.
"Pink dogs?" I offered.
"No. It's a drink made with ice-cream," my mom said.
And so I offer it today, along with nine other cool summer treats kids (big and small) will love.
Pink Lassie
I cup cranberry juice
¼ cup orange juice
I cup vanilla ice-cream
Mix in blender until smooth; makes two servings.
Easy Popsicles
Fill ice-cube trays with your favorite juice. Place toothpicks inside each cubed section. Freeze until ready to serve. (Or freeze a larger version in a plastic cup with a Popsicle stick inserted).
Frozen Bananas
Skin banana. Cut banana in half. Push banana onto Popsicle stick. Freeze in plastic wrap until ready to serve. (For an extra-special treat, roll banana in melted chocolate before freezing. Place on waxed paper on a cookie tray and freeze).
Frozen Fruit in a Bag
1 bag of frozen or fresh mixed fruit
Small freezer bags
Allow the bag of frozen mixed fruit to unthaw a bit; just enough to be able to work with the fruit. Separate the fruit into small freezer bags. Freeze. When ready to eat, let the bags set out for about 15 minutes. Serve. (Grapes are great as a frozen treat).
Ice-cube Heaven
Place three or four large ice-cubes in a plastic cup. Serve. This treat is especially great for one and two year olds.
Jell-O Squares
3 packages (3 oz.) Jell-O
1 (4 pack) Knox unflavored gelatin
4 c. boiling water
Mix ingredients and pour into glass pan. Set. Cut into squares and serve. Do not refrigerate to set.
Yogurt Fruit Salad
As easy as it sounds. Mix your favorite fruit with just enough vanilla yogurt to cover. (Allow frozen fruit to sit out for a bit and mix with yogurt when it is still partially frozen).
Ice-Cream in a Bag
There are various sites that have the recipe for this great treat. Try MomsWhoThink or Kaboose for some great recipes.
Orange Julius
6 oz. frozen orange juice concentrate
I cup milk
I cup water
½ cup sugar
1 tsp. vanilla
Ice-cubes
Mix all ingredients together in a blender and serve. (Slowly adding ice-cubes until you get the drink to desired consistency is best).
Yummy Slush
(This recipe comes from my grandmother)1 46 oz. can unsweetened pineapple juice
1 6 oz. can frozen lemonade
1 6 oz. can frozen orange juice
7 bananas, either whipped in a blender or mashed with a fork
2 Quarts 7Up
Place mixture in containers and freeze until solid. To serve, let mixture stand out for a short time, then mix with 2 quarts 7Up. The more 7Up you add the more like a punch it becomes.
With the summer heat upon us, these cool treats are sure to be a hit!
---
Kathryn Jones is a freelance writer. She is currently a resident writer for Online Schools, which researches areas of higher learning, how to pick an online school, and education. In her spare time, she enjoys reading, home decorating and ice-cream. Learn more about Kathryn and her work at: A River of Stones.
Posted under Homeschool Life