March 14, 2011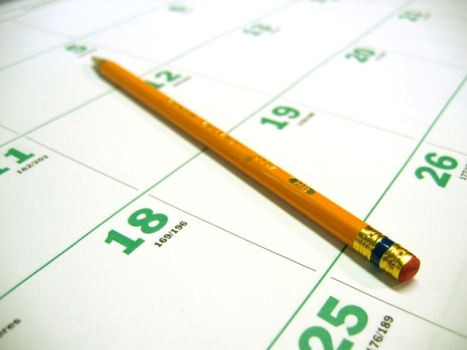 Here's how the fantasy version of homeschooling played out in my head, before I ever started:
My kids would be free to explore whatever subject fascinated them.  They would find a subject that caught their interest, like dinosaurs.  Then we'd check out books at the library, get a model building kit, bury some plastic dinosaurs in the sand box to be excavated, etc.  My child would run from activity to activity, enthralled with learning since he/she wasn't being forced to follow the strict and often boring schedule of public school.  (I'm an unschooler at heart.)
Then reality intruded.
"I HATE school!"
"Why do we have to do this?"
Left to their own devices, my kids gravitated to the TV and computer games.  We used comic books and fun chapter book series to encourage early reading, but then had a hard time getting the kids to pick up anything non-fiction or non-Harry Potter genre.
I was horrified.  How could they hate being free to learn anything they wanted at their own pace?  They had no idea how good they had it.  I only had a few required subjects, mainly math, reading, and writing, that if they would sit down and get busy could be done in one to two hours a day.  The rest of our 'school' is unschooled and learned through what we experience and pursue during the rest of the day.  But getting them to do those couple hours of 'school' was torture and would often drag on for the whole day.
So, I thought I'd start an article series about the different strategies and techniques I've used to motivate and encourage my kids to "Just Do Your School!"  Some have worked, some have failed, and many work for a time and only for specific children.  That's why I'd like to put a bunch of ideas out there and hope that one helps you for a specific child.  Please feel free to send me ideas (I'm always looking for new ones) by adding a comment.
The White Board
Take five kids doing five different levels of school in a variety of subjects and it's a nightmare to keep track of.  Besides, I'm really committed to teaching my children to be self starters for both practical and sanity reasons.  I simply don't have the time to sit with all five of them every day and teach them each of their subjects.  It works much better for them to do as much work as they can and come discuss it with me when they're done or need help.
Our solution is a big white board.  After redrawing a grid over and over, I finally figured out that using electrical tape, carefully cut lengthwise into skinnier strips, made a nice 'permanent' grid on the board.  The kids' names go across the top and the school subjects and chores are written down the left side.  To check something off, the kids write the first letter of that day, ie. on Monday, they write an "M" next to math when they have it done.  After multiple evolutions, I added a few rules to help make the white board idea work better:
Kids have to report on their lesson to me, and put away their books before they can check off a subject.  The side benefit of this is they develop oral reporting, summarizing, and teaching skills and it helps their lessons sink in better.
School and chores are not considered done unless checked off on the board, eliminating having to repeatedly ask, "Have you done your chores?  Is your school done?"  I just walk to the board and check.
Cheating by checking something off they haven't done results in no privileges (explained in another post) that day.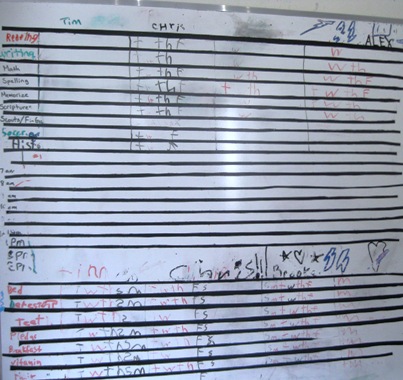 (I considered cleaning up our old workhorse for the picture, but this is how it usually looks, so . . .)
Do you have a calendar system or white board that works for you?  I'd love new ideas.
Enjoy!
P.S.  I know many homeschoolers have different teaching philosophies and what works for one may not work for others.  Just as in all schooling choices I respect each family's decision to do what works best for them.
Posted under Homeschool Life