March 28, 2011
Stickers are often used to motivate toddlers, but what about older kids?  Here's are a few ways we've resurrected the use of stickers to motivate kids around here.
My 9-year-old daughter has a tendency to 'fortune tell' or predict her failure with statements like, "I'll never get my school done in time," or "My room a huge disaster.  I can never get it all cleaned up."  Then she'll usually sit and mope the day away, miss play-dates or activities, and end the day in a sobbing puddle of failure.
I try to let natural consequences do the teaching (when I remember), but she leaves me baffled at times.  She'll be so upset to have missed a fun activity because her work wasn't done, and I'll think that she's surely learned a lesson, until she does the same thing the next time around.  The point of this long story:  My daughter does much better with a big job broken up into many small easy tasks.  Think of the old adage:  "How do you eat an elephant?  One bite at a time."
So, I tried to help her break her tasks into small pieces like, pick up the clothes, then the toys, then the books, then the trash.  Yeah, didn't work so well either.
Turns out I had to break down the rewards too.  If she had to get all her chores and all her school done to earn media time that she really didn't care too much about, she didn't really bother.
So, I needed small rewards and small consequences, to aid her baby steps of progress.  Here's what I used:
Small prizes:  A great garage sale find during the summer of an entire set of 30 pet shop animals with a playset for five or so dollars.  It had been sitting in the gift box waiting for a good occasion.
Small rewards:  I made a little chart for my daughter to put her stickers on, fanned out the sets of stickers from our craft box and had her pick her favorite.  Then I explained that any of her responsibilities that she did without being asked, she could put a sticker on her chart.  For every 15 stickers she could pick out a pet shop animal.  So every day, she had the potential to earn 11 stars:  six stars for each of her school subjects, four stars for each of her cleaning chores, and a star for dishes if it was her week.  The tiny 'bite of the elephant' associated with each star worked extremely well for her.  She had little rewards for each thing she did, instead of a big one for doing everything.
Small consequences:  There was an added benefit.  The two of us had fallen into a nasty habit of me nagging her continually before she would get up and do much of anything.  The more I nagged, the more she resisted, sneaking off, and the more angry I got.  If I tried to come up with a consequence, she'd just get angrier and still not do much of anything.  I really need a small consequence that I could hand out calmly multiple times a day if needed.  The stickers were perfect.  I could hand them out any time I saw her working on something on her own initiative and I could calmly mention what a bummer it was that I needed to take one off because I had to remind her a second time to take out the overflowing trash.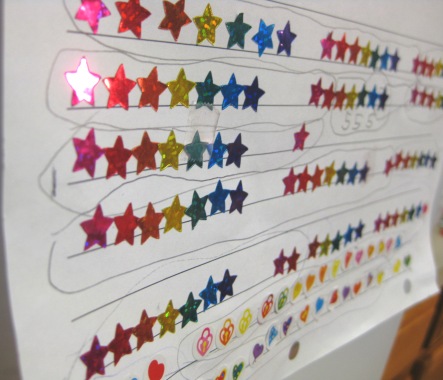 So, if you're looking for an idea to motivate or hand out consequences in small baby steps, try giving stickers another chance.
(Another fun idea is to try custom sticker printing available at PsPrint.com)
Do you use stickers or small rewards to successfully motivate your kids?  I'd love to hear ideas!
Enjoy!
P.S.  If you'd like to help your kids (or yourself) change their doom-and-gloom thinking patterns like my daughter 'fortune telling' or predicting that she will fail, please check out the book "Feeling Good" by David Burns.  I can't recommend it highly enough.  It's helped my own depression and helped me teach real tools to my kids when their thinking patterns lead them down that path.
Posted under Homeschool Life