June 29, 2011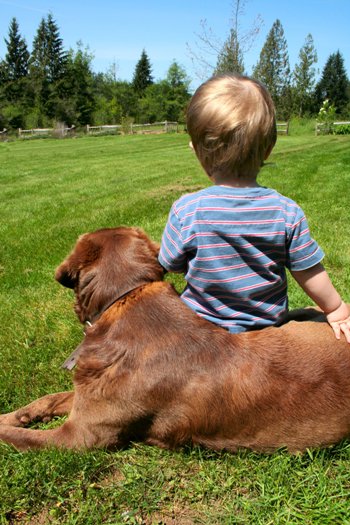 Thanks to Isabella York for this Guest Post!
Teaching your children life lessons entails patience, hard work, creativity and most of all, resourcefulness. Homeschooling your kids (and the simple act of being a parent to them) is quite tough, given the fact that their learning mainly depends on what you instill in their minds. Then again, there are just some things that you cannot teach them – things that only other people (or in this case, other life forms) can teach. According to Rebecca Reynolds Weil of the Animal as Intermediaries program, animals play a significant part in making children feel empathy and curiosity. Like the way future parents are taught how to extend their patience when they finally have kids to take care of, children are given valuable life lessons when given the chance to take care of their own pets. The following are five life lessons that we learn from caring for animals:
†
Empathy. Children who have their own pets become curious about everything in connection to the animal. They become inquisitive and interested in their pet's feelings, developing empathy and a wider understanding of how the pet is supposed to be taken care of. This empathy then extends and translates into compassion for the greater world. It's just like making them feel how we are supposed to think of other people's feelings! Pet care somehow prepares them for a deeper involvement in everything that surrounds them.
Resilience. Although not all children have been through traumatic experiences, it is significant and very beneficial to give your kid a chance to feel that he or she is a part of someone else's life to avoid self seclusion due to changes in the environment. The feeling of belongingness and importance is a great contribution to the adaptation capability of a child. Say for example you move to a new address and let your kid attend regular school – there are changes in the environment which can cause your kid to feel alone or isolated. But with a pet to care for and nurture, the child knows that there is someone who needs him or her, and therefore does not feel lonely.
Communication. Kids become very attentive to the needs and feelings of their pets. They learn how to listen to their pets' desires through different cues and signs. In the course of taking care of an animal, a kid learns to differentiate when the pet is hungry, sleepy, angry or happy. He develops the desire to know all the things that his or her pet asks for, and learns to apply this lesson in real life. As he encounters different kinds of people later on, the child then knows how to listen and understand body language as a way to empathize. In essence, he learns to value effective communication in order to understand another person.
Confidence. The lives of children may seem like an easy cycle of playing, watching TV, eating, laughing, and all those fun things! Well, if you think this is what your child is going through each day, you might as well think again. Children go through a vicious cycle of endless judgment. Their grades, physical fitness, manners, performances and actions are evaluated and ranked. They are unintentionally put in a world where they are forced to compete with others, think of their limitations and mull on their mistakes resulting to wavering self esteem and irresolute identity formation. Yes, the life of children is a tough series of worries. You have been through a similar cycle, and I know it has not been very easy. As for your kid, pet care can be very helpful in developing confidence – in as simple as the kid feels that he or she is important to the pet without being evaluated because of every little thing that he or she has done in the past, the kid feels secured and more confident.
Responsibility. Considerably one of the most important life lessons that pet care can bring to your child, learning how to take care of another living thing is something he or she can make use of as he or she grows older. This part should be carefully watched and guided by parents, as taking care of another living being requires a sense of responsibility. As time goes by, your kid learns how to give the pet a bath without your supervision, feed him or her on time without your reminders, and basically take care of the animal and keep him happy and fit. It is a great leap forward in actually learning how to take care of others (people and things), and is something only experience can teach. Your kid grows up physically and emotionally, and becomes satisfied because of his or her capability in nurturing his or her pet.
Getting a pet for your kid may mean you will have to wipe animal dirt off the carpet during the first couple of days, weeks or months. It may also mean you will be taking care of an additional family member thus more effort on your side. But all the life lessons it can teach your kid should be more than enough to say you are willing to wipe your dog's dirt off the carpet everyday!
---
A busy mother with a son to raise, Isabella York enjoys being outside in her back yard garden. She helps people celebrate the holidays with Artificial Christmas Trees from Balsam Hill, a provider of fine pre-lit Christmas Trees.
†
Posted under Homeschool Life