January 18, 2012
Ok, I need some ideas. We're reaching that point during the winter where the kids are going nuts from being stuck indoors.
What do you do to keep the kids active during the cold months?
If you have something that works for your kids, take a second and add it to the comment section and maybe we can come up with a nice list to help us all keep our sanity this winter.
Thanks!
Here's my idea:
We got the two boys a mid-sized trampoline (8 feet, I think) for Christmas.  It just fits in the basement and we're planning to move it out to the deck in the spring.  Before that, we've had good luck with a simple exercise trampoline and a blow-up jumping ball pit, though the blow-up was not very durable with five kids using it.  It only lasted a year or so.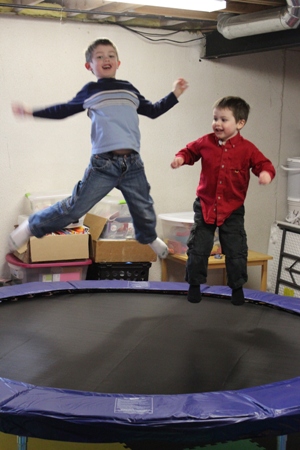 What works for you?
Posted under Homeschool Life