April 4, 2012
(NEW – This week Trip Clip is now offering one of my readers a free Trip Clip and 20 free printable Activity credits!)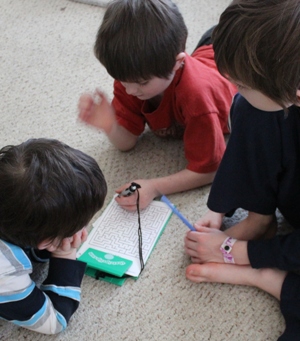 Have you had the same trouble as I have pulling your kids away from the computer games, Nintendo DS's, and TV shows?  It's sometimes hard for reading and writing to compete with the high tech toys of today.
Enter the TripClip.  They sent us one to try out and we've been enjoying it for a while now.
It's an all-in-one activity center in the form of a clipboard for kids.  Attached is a fat and easy-to-grip pen with cool buttons that switch to four different colors.
On their website, you can customize and print half page activity sheets on an assortment of topics including lists, games, puzzles and creative categories (10 are included with your $19.99 TripClip).
Some of the fun ones we've used:
We printed up a few mazes with my 6-years-old quickly moving from the "easy" mazes to the "super hard" ones.  Everyone crowded around to help out.  When he finally completed the "extreme maze", he was pretty excited.
My 8-year-old ran around pestering siblings to play hangman with him which kept two kids busy at a time (and doing writing and spelling, I might add).  Yay!
Lists, lists, and more lists.  You can print up an illustrated shopping list so young ones can 'help' you shop.  Or print up chore and packing lists and send the kids off to get busy.
Cutting the papers in half gave my 3-year-old some fun scissor-time activity.
The four colored pen was a great fascinating for this little guy.  He was intently coloring for almost half an hour.
Thanks TripClip!
Posted under Homeschool Reviews